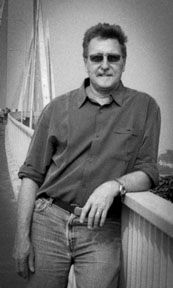 ABOUT
Don Unrau has been making photographs concerning Viet Nam for over forty years. The first photographs he made in Viet Nam was with a small Japanese rangefinder carried while a soldier in America's war there.
Most of Unrau's photographs are contained in series form and the first, begun in 1982, called WAR STORY, are portraits made of Viet Nam veterans. Beneath the image of each veteran is their handwritten statement about Viet Nam. The portraits, combined with their personal statements, testify to the varied emotions and intense feelings they have with their relationship to that war.
Returning to Viet Nam in 1992 for the first time since the end of the war, he began documenting the Viet Nam landscape with the intent of seeing a place he had only known during war time. In 2009, SPRING VISITS: Photographs From Viet Nam was published.
In 2010, coinciding with the 1000 year anniversary of Hanoi, he began HANOI STREET WORK. Using color film he began documenting street vendors who sell the products consumed daily in Hanoi. Photographing them as they stand, facing the camera, he provides these proud and courageous workers their moment of respect and dignity. In 2012, a small edition of 100 copies of HANOI STREET WORK was published. Ten of these copies contain a signed archival pigment inkjet print.
A third series of photographs called THE REVOLUTIONARY MOMENT, are portraits of veterans from the National Libertation Front, or Viet Cong, as most of a generation during that war knew them. The portraits were made primarily in Quang Ngai Province, an area of extreme resistance to foreignors beginning with the French colonial forces.
BIO...
b. 1950, Wolf Point, Montana, USA
US Army, Combat Medic,Viet Nam
University of Colorado
Artist In Residense, LIGHT WORK, Syracuse, New York
SELECTED EXHIBITIONS
2009 New Orleans Museum of Art, group, traveling exhibition, THE ART OF CARING: A Look At Life Through Photography; New Orleans Museum of Art, Cinncinati Museum Center, Museum of Art-Fort Lauderdale, Museum of South Texas, Corpus Christi(2012).
2008 23 Sandy Gallery, Portland, Oregon, USA, group
2005 Photographers Association Gallery, Ho Chi Minh City, Viet Nam, solo
1999 Fine Art Center Galleries, University of Rhode Island, USA, group
1997 621 Gallery, Tallahassee, Florida, USA, group
1997 Museum of Fine Art, Tallahassee, Florida, USA, group
1994 Robert B. Menschel Photography Gallery, Syracuse, New York, USA, solo
1994 Ruth Ramburg Gallery, Albuquerque, New Mexico, USA, solo
1994 Jean Cocteau Theater Gallery, Santa Fe, New Mexico, USA, solo
1990 Artemesia Gallery, Chicago, Illinois, USA, group
1990 Infinity Gallery, University Park, Illinois, USA, group
1989 Laramie Plains Museum, Laramie, Wyoming, USA, group
1989 South Broadway Cultural Center, Albuquerque, New Mexico, USA, group
1989 Library Gallery, University of Colorado, Denver, Colorado, USA, solo
1988 Governor's Gallery, Santa Fe, New Mexico, USA, group
PUBLICATIONS
SPRING VISITIS: Photographs From Viet Nam, monograph, Stray Dog Press, 2009
THE ART OF CARING: A LOOK AT LIFE THROUGH PHOTOGRAPHY, Exhibition catalog, Cynthia Goodman, Phd., 2009
CONTACT SHEET, 25th Anniversary Edition, LIGHT WORK, Syracuse, New York, 1988
BANG! THE GUN AS IMAGE, Exhibition catalog, Museum of Fine Arts, Florida State University, Tallahassee, Florida, 1997
WAR STORIES AND MEDITATIONS, Exhibition catalog, Robert B. Menschel Gallery, Syracuse University, Syracuse, New York, 1994
AWARDS
2010 SPRING VISITS: PHOTOGRAPHS FROM VIET NAM, Photography Book of the Year, Publishers West
2010 SPRING VISITS: PHOTOGRAPHS FROM VIET NAM, Gold Award, for printing excellence, IAPHC